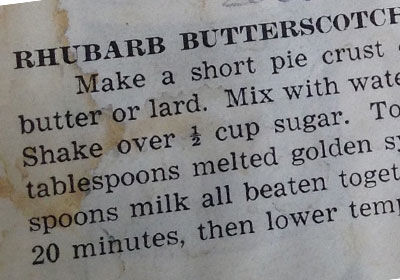 This scrumptious autumn recipe is from Wendy Marshall's well-used, cover-less Burnside High School Cookbook 1st ed. circa 1968. (The comment is from her teenaged daughter Meredith)
Feel free to replace the short pie crust with sweet pastry sheets.
It keeps for a couple of days in the fridge if you are strong-willed. Delicious hot or cold. Goes well with an unsweetened yoghurt or unbelievable with ice cream.
Ingredients
Short Pie Crust
115 gm flour
1/2 tsp salt
55 gm butter
Filling
Enough cut rhubarb to cover the top of a 23cm pie dish
1/2 C sugar
Topping
1 egg
2 Tbs brown sugar
2 Tbs melted golden syrup
2 heaped Tbsp flour
3 Tbs milk
Method
Make the short pie crust by rubbing the butter into the flour/salt mixture with a little water until it forms a roll-able dough. I used my kitchen whizz. Roll out and place in your greased pie dish. Top with cut rhubarb.
Shake over 1/2 cup sugar (optional - although as the pie crust has no sugar in it I did like this sweetness).
Next make the topping by beating all the ingredients together and pouring over the rhubarb. Bake in a fan oven at 200C for approx. 20 minutes then lower temperature until cooked (I lowered to 160C for another 15 minutes. Eat hot or cold.