Information about Avon Floral Art Group
Treasurer
Linda McGregor
Tel: 027 568 5666/03 479 500
Email:lindaandbarry@xtra.co.nz
Secretary
Liz MacLeod
Tel: 0274 368 375
Email:elmacleod@xtra.co.nz.
Subscriptions
$60 per annum
Meetings
2nd Tuesday of the month at 7pm
The Village Community Hall
Frank St, Papanui.
No meetings in January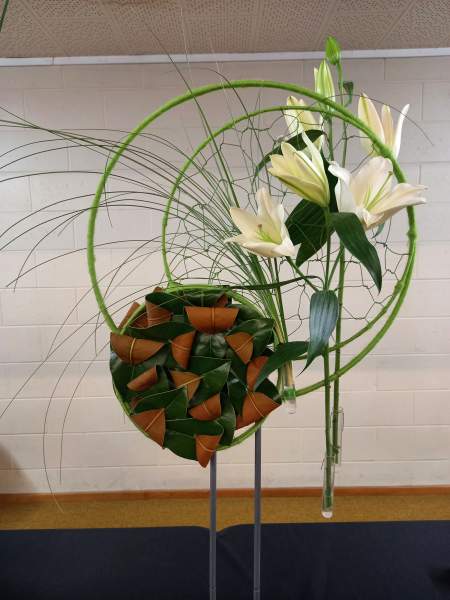 The Avon Floral Art Group
Avon Floral Art is now in its 52nd year. Avon Floral Art was formed in 1972.  It is an autonomous body, affiliated to the Floral Art Society of New Zealand (FASNZ).
Our newsletter is Twiglets and is emailed to members monthly - it keeps members up to date with FASNZ news, club activities and worksheet requirements for the next club meeting. We use FASNZ website. Our Facebook page is: Avonfloralartnz
Avon Floral Art Group is committed to enjoying and sharing the delight of floral design. We have members from all areas of Christchurch and meet monthly – to either create designs at club or bring something prepared.  We would love to encourage new members to join us. Club nights provide a wide range of interest with demonstrations, teaching, fun and camaraderie. We have many gifted members who share their skills willingly.
Avon Floral Art is affiliated to the Floral Art Society of New Zealand who is responsible for the promotion, teaching, judging and education in the art of floral design. It also promotes its work through publications and exhibitions – both nationally and internationally. FASNZ is affiliated to the World Association of Flower Arrangers (WAFA).
If you would like to come and visit – please let us know in advance so we can welcome you and make your visit a success.
Subscriptions are $60/annum which includes a floral diary exhibiting photographs of members designs throughout all the clubs in NZ. All members are expected to help in a voluntary rota capacity in setting up on club nights, organising supper and cleaning up. We also support The Charity Hospital and supply flowers and designs all year.
We have a monthly programme with different tuition or demonstrations at our club nights, along with at least three annual events shared with the other two Canterbury Floral Art Groups - i.e. Floral Art North Canterbury and Cheviot. We also participate in wider community activities at times. For instance this year we are taking part in Botanical Expo - 16/17 September. This link is to some previous activities that were written for FASNZ -Previous Activities
We have no planned courses currently - but all members are able to register for educational units run by Floral Art Society of New Zealand (FASNZ) to whom we are affiliated -www.fasnz.org.nz. FASNZ also holds national events such as an annual conference and other educational events that members can attend.