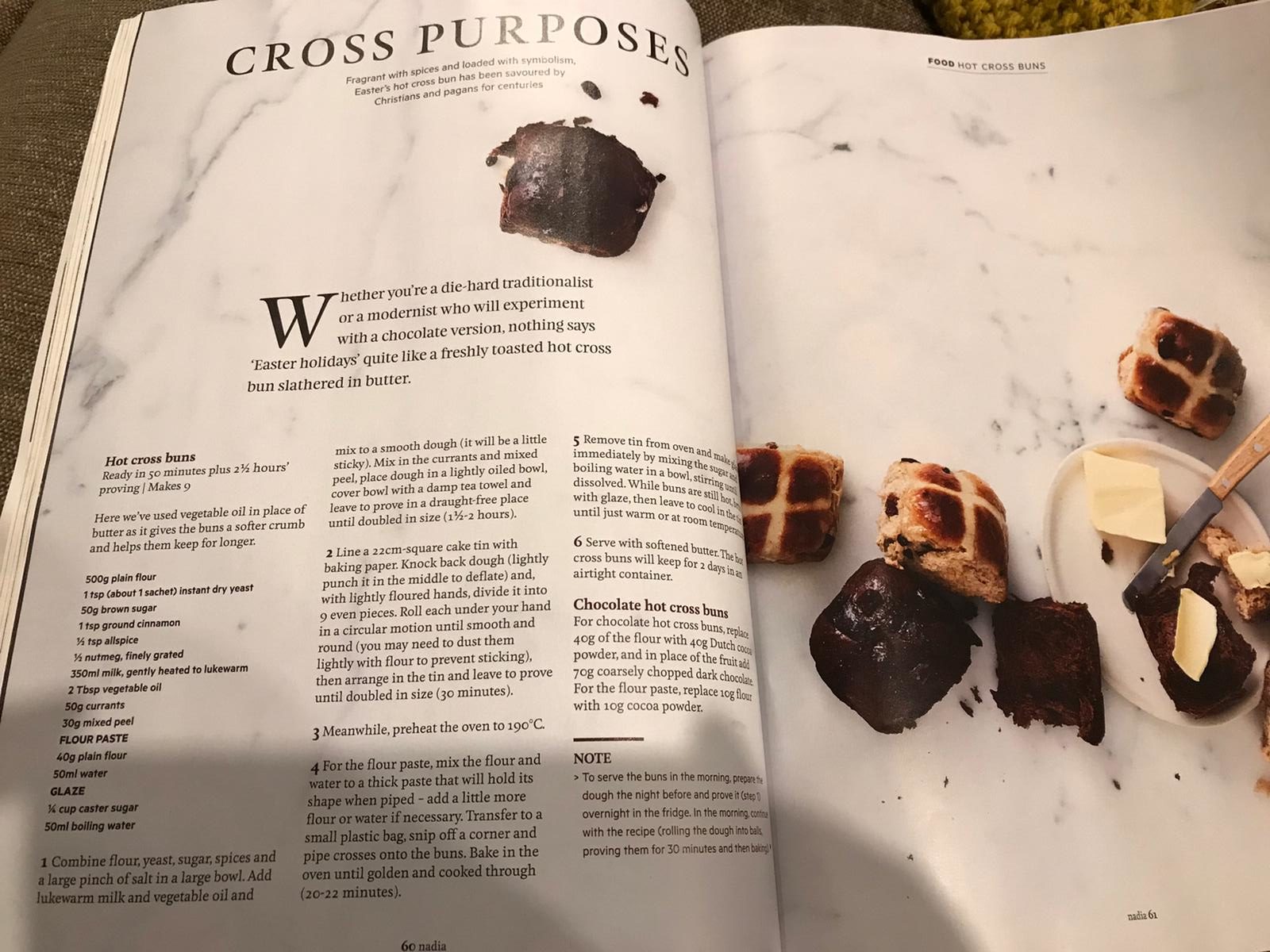 My girlfriend sent me a picture of these delicious looking buns on Easter Friday so I just had to try them out myself. They are adapted from a Nadia Lim recipe. First version was a little under-spiced so  I made some adjustments and the second batch was much improved. I had to substitute a few things but still a lovely result (especially when you forget to put hot crossed buns in the online shopping order!)
Ingredients
Dough
500 gm flour
1 tsp active dry yeast
50 gm brown sugar
2 tsp cinnamon
1 tsp allspice
1/2 nutmeg finely grated (I used 1/2 tsp ground nutmeg)
350ml milk, gently heated to lukewarm (I used powdered milk)
2 Tbsp vegetable oil
50 gm currants (I used raisins)
30 gm mixed peel (I made do with some mandarin peel)
Flour Paste
40gm flour
water to mix
Glaze
1/2 C caster sugar
50ml boiling water
Method
Start by making the dough, combine the flour, yeast, sugar and spices and a tsp of salt in a large bowl. Add lukewarm milk and vegetable oil and mix to a smooth dough.  Mix in the currants and peel and transfer to a lightly oiled bowl. Cover with a damp tea towel and leave to prove until doubled in size (1-1/2 hrs).
Line a square 22 cm cake tin with baking paper. Knock back the dough and with lightly floured hands divide into 9 even pieces. Roll into smooth balls and arrange in the cake tin. Leave to prove until doubled in size (about half an hour).
Preheat the oven 190C
For the flour paste, mix the flour and water to a thick paste that will hold its shape when piped (my first version was too runny and I had very thick crosses!). Put in a plastic bag and snip the corner to serve as a piping bag to pipe the crosses.
Bake until golden - approx. 20-22mins.
Remove from oven and glaze immediately . Wonderful served warm with butter.