CHS Supports City Orchard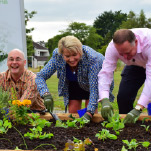 Prime Minister John Key (pictured here with Dr. Matt Morris and Hon Nicky Wagner) recently opened a new community garden and orchard in the North Frame, in Cambridge Terrace between Colombo Street & Manchester Streets.
The Food Resilience Network (FRN) was successful in securing a five year lease on a block of land in the North Frame to develop a community orchard and garden, with a café.
A large collaboration quickly formed around the project – which has the working title Ōtākaro Orchard – taking in around 30 organisations and businesses, including the Christchurch City Council and Community and Public Health, alongside Permaculture Canterbury, the Food Forest Collective, Canterbury Horticultural Society, Canterbury Community Gardens Association, WOOD Ltd and many more.
"Our vision is of a top-quality community garden and orchard, working in conjunction with a social enterprise café run jointly by several social service agencies.
It will be a place for education about growing food – with community workshops, vocational training and informal learning all taking place here, within the context of a caring, nurturing environment.
Finally, it will be a place for residents and visitors alike to come together and share food and a place to rest and reflect on the future for the Garden City and we feel really honoured to be holding this space next to the Earthquake Memorial. We feel this garden and orchard will be a healing place for our community," said Dr Morris.
It is also a shop front for the region-wide food resilience movement that has been gathering momentum since the devastating earthquakes. The idea is simply to make good food more accessible to more people in our communities.
A givealittle crowd-funding campaign has been set up to help fund the project, valued at $1.7m. The team is also looking for project partners to support the project.  "We have had some great offers already, such as from engineering company GHD and we are on the lookout for more," Dr Morris said.
See www.otakaroorchard.org.nz for further information and links