Kirsten Tui MacFarlane reports on a makeover for
big trees & new ways to enhance visitor experience
The Christchurch Botanic Gardens attracts around 1.2 million visitors a year, and in August we're expecting 50,000 visitors for Botanic D'Lights. All this foot traffic is great for business, but has a big impact on our environs. In particular the big trees on Armstrong Lawn needed attention.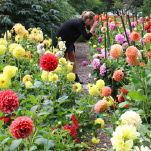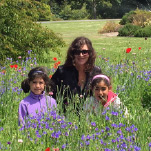 Bede Nottingham, Team Leader of Operations for Hagley Park and the Botanic Gardens, says foot traffic impacts the soil around trees and this leads to root damage.
"We had to find an efficient way to mitigate the damage, so we're trialling a new technique called 'air spading' which uses great volumes of compressed air to break-up the soil around the base without damaging the roots."
For added protection, the garden's team have mulched around the base of the trees.
Visitors also want to get up close to our garden beds for the obligatory selfie, and our plants often get trampled in the process. Rather than rope off the beds, some of our collection curators have created pathways right through their beddings.
Susan Sanders has woven several paths through her eye-catching bed of Dahlias. Guillaume Jacob has intersected a circle of wildflowers with a grass path, which offers the perfect photo op!