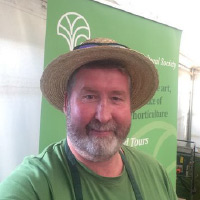 Where were you born and where did you spend most of your childhood?
I was born in Balclutha, South Otago. My parents had a sheep, beef and forestry property.
Where do you live now?
I now live in Sumner, part-time, which has allowed me to enjoy the plant species that of area. Both the introduced and the exotic species of the coast are very enjoyable, from daisies to Pohutakawa. And Springs Junction for the other part of my time. I really enjoy the moss property that we own up here and the massive range of differences between the coast and the mountain ranges – both for climate and the plant species.
What aroused your interest in gardening or horticulture?
Tree nurseries and the development of the family plantation blocks drew my interest to horticulture and once you are hooked your world expands in all dimensions. I even started a paddock vege garden when I was very young.
What gardening or horticultural interests do you have now?
I'm exceptionally lucky that with our business of Magic Moss I have been to a diverse range of places this year. From talking to over 100 people (and demonstrating for them), to in-house staff training in retail outlets, to supplying and being on major movie sets.
Working with the CHS events committee has enabled me to keep in touch with developments while still teaching folks how to accomplish things.
The CHS School Gardens Show was so rewarding. I have a huge passion to teach others new skills or learn myself.
What's your favourite plant and why?
Corokia Cotoneaster – The Barbwire Bush – Native. The form intrigues me and the ability to thin it for effect. The flower and berry is cool.
Tree: – Prunus Autumalis – Southern Gem. It flowers four times a year and is always attractive, like the Acer Griesum. Also let's not forget Dianthus.
What's been your most challenging and/or rewarding gardening project ?
The ability to enjoy the gardens about me and keep them in an ever-changing development stage.
When did you join the CHS and why?
I'm unsure of the date, but to further my knowledge. It's very enjoyable to work with people within the industry and the CHS members are always interesting and inspiring. We are a crazy enjoyable bunch.
What is your passion for the future of the CHS?
To be able to teach the young ones coming on and allow the existing members to bring the next generation into gardening. The CHS has so much to offer and we need to blend both old and new together.