A six acre block, once covered in gorse and scrub, has given Terry and Margaretha Graham plenty of room to garden.
Every attempt has been made to use and enhance the existing land form.  Judicious plantings of natives and exotics have been chosen for their form and foliage to create pleasing and interesting vistas.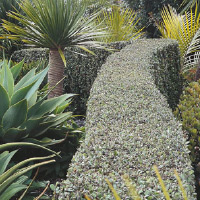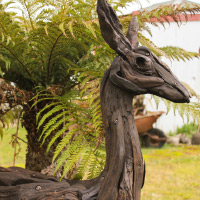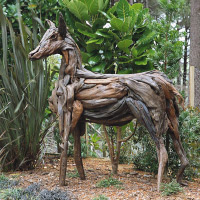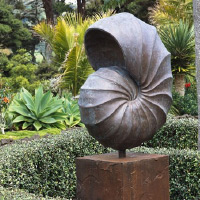 A La Fois is a garden made with imagination, determination and sheer hard work. Blackberry, gorse and old pines have made for a beautiful garden and home which nestles into its hillside site, blending with the regenerating bush on its edges and enjoying dramatic views over the countryside. Best of all , Terry and Margaretha, the fun couple who turned their garden dream into reality, are on hand to tell you how they did it.
Large sculptures made from recycled materials add to the sense of drama. This is a garden that inspires with its vision and gives the impression of walking through a living work of art.
Tall hedges curve like battlement walls, sheltering the garden beside the house and creating a dynamic architectural style, contrasting with the soft form of special ground cover plants, palms and blazing colours of "Springfire" pohutukawas and tropical vireya rhododendrons and Australian grevillias..
Author Julian Mathews wrote in the New Zealand Gardener.
Margaretha and Terry work hard to ensure their garden is always immaculate. They share in the garden's many tasks, so when it comes to the clipped Eugenia, which are a strong feature of the garden, the work is equally divided. Terry does the closely clipped hedges and cones, but as for the lollipop shapes, Margaretha likes a moore lose look, so she does that herself. She confesses to loving clipped shapes. I'm a hairdresser- and can't help myself, she says.
Terry and Margaretha love having visitors to their garden to enjoy the beauty they have created.
We will be assured of a memorable visit.
See the full itinerary and inclusions for the Auckland & Waiheke short break tour here