Enjoy a relaxed day in rural Tai Tapu with five beautiful local gardens
Sunday 11 November
$120 includes: coach travel, morning tea, garden tour ticket, boxed lunch at the Tai Tapu School & CHS Tour Guide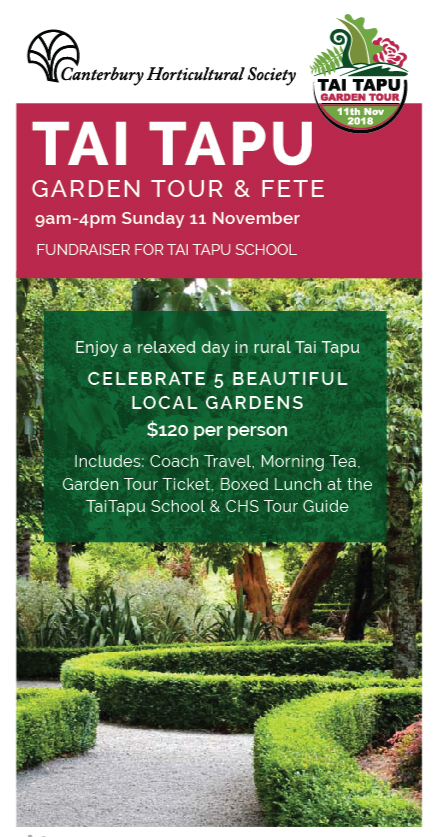 Frensham Garden
Lovingly developed over the past 24 years, with a serious plant collection including some rare species, this is a beautifully detailed and established garden with glorious borders packed with perennials.
Brailsford Garden Established five acres of garden rooms, diversely planted with woodland, natives, exotics and edibles. The architecturally designed home that was constructed locally milled timber.
Holmfirth Garden A formal hillside garden with pond plantings nestled into the foothills of Tai Tapu. An evolving garden that is jammed packed with diversity.
Tai Tapu Sculpture Garden
A sculpture garden and native regeneration project supporting contemporary sculpture practice in New Zealand and enhancing biodiversity in Canterbury. Only open once a year, this is a wonderful opportunity to visit the permanent collection of sculptures. Make sure you don't miss the special floral art exhibition showing at this garden
Chapman Hall Castle
Built in 2013 this is a unique example of autonomous house design using existing surrounding garden features with exotic and native landscaping to support the local indigenous ecosystems of the Port Hills. The property is set majestically on top of a knoll in Tai Tapu offering commanding views to the surrounding countryside and the Southern Alps.
Download the flier and registration form
---
Coach Pick-up Point
Princess Margaret Hospital
Report 9.15am (9.30am departure)
or by arrangement