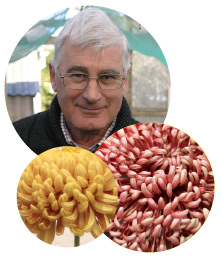 Where were you born and where did you spend most of your childhood?
I was born and raised in Christchurch, the middle child of five.
Where do you live now and with whom?
I live in Saint Albans, an older area of Christchurch which I really love. My wife Susan and I have been married for 45 years we have two married daughters and six grandchildren.
What aroused your interest in gardening or horticulture?
I believe I was born to horticulture as a young child I was fascinated with plants and how they grew from seeds or cuttings. Every plant or seed that I planted grew and nothing succeeds like success so I was hooked.
What gardening or horticultural interests do you have now?
I love all aspects of horticulture and I like to read anything about plants so that I can learn more.
What's your favourite plant and why?
Chrysanthemums are my first love because there is no other flower that has the wide range of colour, flower form or length of flowering season that they do. As a show flower they are very rewarding, as a flower they are long lasting, as a pot plant they give colour inside and in the garden they give wonderful mass colour displays especially in the Autumn.
What's been your most challenging and/or rewarding gardening project ?
At this time as I get older I have made five raised beds for growing my vegetables. This has made me think about what is needed for the different crops, how much water is needed, when to plant and has been something of a learning curve for me. The results have been better than I thought at the start.
When did you join the CHS and why?
1969 so that I could join the chrysanthemum circle and get into the five shows held per year at that time.
What is your passion for the future of the CHS?
I would like to see the Society have a higher profile so that it will be seen as the foremost organisation for the education, information, plant assessment, and problem solving for all aspects of gardening, floral art/design, specialist plant groups and horticultural/garden displays in Christchurch.

Image above: Chrysanthemums, like these from the 2015 CHS Autumn show, are a passion of Michaels.