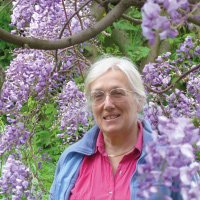 Where were you born and where did you spend most of your childhood?
I was born in Brescia, Northern Italy, and grew up there.  From the age of about twenty I was studying part time, working and later travelling from Italy to England all the way to New Zealand.
Where do you live now?
I have been living in Christchurch central and in the inner city East area for over a quarter of a century.
What aroused your interest in gardening or horticulture?
My brother's studies were in agriculture and horticulture, I was a humanities student.  In my youth I was never interested in growing anything, though I did take an interest in learning about practical things, with varying degrees of success (I was also quite sure I would not be a teacher – my mother being one – and that's precisely what I became,  teaching mainly Italian to adults or tertiary students).
What gardening or horticultural interests do you have now?
While living in Christchurch, being interested in natural approaches to health, and herbs for medicinal and culinary use, I started thinking that maybe I could try growing some of these herbs.  Much to my surprise the soil in the back yard of our old central city flat was extremely fertile (it had been an old neglected garden, filled with hardworking worms) and it produced a great crop.  After that experience I was converted, and promised myself I would soon live somewhere with a bigger garden and I would grow as much food as I could.
What's your favourite plant and why?
I have many favourite plants, the one I love the most right now is Wisteria.
What's been your most challenging and/or rewarding gardening project?
That would have happened once I moved to my own home in the inner city East, but I soon developed OOS (which was then called RSS – repetitive strain syndrome), I was working a lot at the computer, preparing teaching materials, doing administration for a few projects and writing reports, lots of handwriting too.  So, no gardening for a few years.  However, the fruit trees I had planted kept growing, albeit suffering from lack of judicious pruning.
With the help of a great physiotherapist I slowly recovered enough to be able to do practically everything, so I started gardening again.  In recent years I've had to face the fact that I am basically a 'neglectful gardener', never doing things at the right time, letting all sorts of growth get away on me… (Luckily I eat quite a few of my weeds, so it's not so bad).
When did you join the CHS and why?
I joined CHS just a few years ago because some friends invited me along to the Fruit & Veggie Circle, and another friend was a speaker at a Good Gardener evening another time.  I liked the meetings, so I joined, hoping to learn a little from the impressive knowledge and experience of the members… unfortunately the meetings usually clash with either a class I am teaching or another meeting I have a commitment to.
What is your passion for the future of the CHS?
So, though I am a neglectful member, I hope CHS continues to inspire and support gardeners and growers to become ever more environmentally sustainable, regardless of plot size.