Member of the Month – Bob Henderson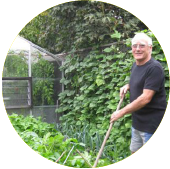 Where were you born and where did you spend most of your childhood?
Born in Greymouth grew up in Blaketown by the sea.
Where do you live now and with whom?
In Bishopdale with my wife Merilyn.
What aroused your interest in gardening or horticulture?
My Father always had a big garden and two glasshouses. I always helped him especially in the glasshouses.
What gardening or horticultural interests do you have now?
My own garden and glasshouse, the Horticultural Society and the Alhambra Gardens.
What's your favourite plant and why?
Kowhai tree, the flowers are fantastic in the Spring time
What's  been your most challenging and/or rewarding gardening project ?
Establishing the gardens in the three homes we have owned, particularly the property we are living in now on a smaller section
When did you join the CHS and why?
Merilyn and I joined in 2004, to meet other gardening enthusiasts and gain tips and information on gardening.
What is your passion for the future of the CHS?
To be able to move to another complex possibly in the Botanical gardens or near the Avon River.  To attract younger people and children to Horticultural Society.
Member of the Month is a new component to the CHS newsletter introduced as an opportunity to get to know some of our newer members, as well as our existing members, a little better. Become a member