Ingredients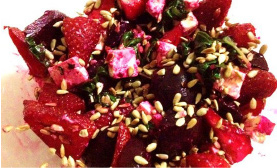 5 small beets (raw, tops removed)
1/4 cup sunflower seeds
400g strawberries
100g feta
Rocket or salad greens
100ml balsamic vinegar
1 Tbs honey
Boil the beets until they are tender when you stick them with a knife. Let them cool down then remove the skins and cut into quarters.
In a heated pan, roast sunflower seeds until slightly brown. Remove from heat.
While the sunflower seeds are roasting, wash and cut your strawberries in quarters.
Mix the vinegar and honey in a bowl until the honey is completely dissolved. Pour this dressing over the beets, strawberries and greens.
Lastly, add the feta and roasted sunflower seeds to the salad.
serves 4 as a side dish