[info]These awards are now closed. We will announce the winners shortly. Thank you to everyone that entered.[/info]
Edible Garden Awards started in 2013 as an initiative of the Papanui-Innes Community Board (SPCB) supported by the CHS. The SPCB repeated the awards in 2014 with great success and 32 awards were made. The Lyttelton – Mt Herbert Community Board (LMHCB) also participated in this scheme in 2014. This year the Spreydon-Cashmere Community Board (SCCB) join in for the very first time. The CHS assisted in the promotion, judging and hosting of the awards functions in 2015, 2016 & 2017 and look forward to supporting SCCB in 2018.
Recognising edible gardens in the Spreydon-Cashmere ward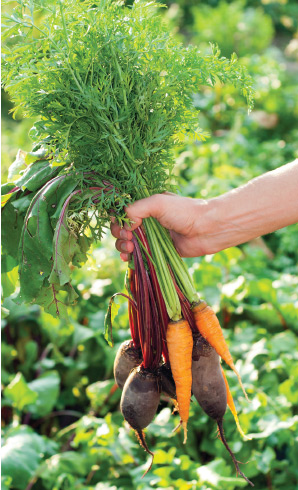 The Spreydon-Cashmere Community Board is delighted to partner with the Canterbury Horticultural Society to launch the Edible Garden Awards scheme this year for our local residents, schools, families and community groups to acknowledge their efforts to produce food on their properties and in their gardens. This is an opportunity to recognise all types of food gardens great and small. We are particularly interested in highlighting sustainability, as the Board is committed to ensuring the bounty of eco-diversity and well-being that flows from caring for our environment.
So, whether the vegetable patch, orchard, or rain garden in your yard or your neighbour's, is new or long established, do put in a nomination and join in with young and old gardeners across the neighbourhoods celebrating local food gardens.

Karolin Potter
Chair, Spreydon–Cashmere Community Board
Canterbury Horticultural Society is pleased to join with the Spreydon-Cashmere Community Board to start the Edible Garden Awards in your area. We hope that many of you will enjoy taking part and helping to share knowledge about the delights of growing your own fresh foods.
The pleasure and health benefits of creating your own produce from seeds to tasty harvest for your kitchen are beyond comparison in today's world. We look forward to meeting you and visiting the food growing spaces in Spreydon-Cashmere.
Alan Jolliffe
President, Canterbury Horticultural Society
---
[one_half]
Categories
Residential House
Residential Unit
School/Early Learning Centre
Community/Business
Special Awards
Special Awards will be given to the best of the following:
Sustainability
Organics
Use of rain water
Outstanding yield
Assessment Criteria
Variety and range of plants
Quality and general health of plants
Freedom from pests/disorders/diseases
General presentation
Absence of weeds, particularly noxious
Innovation (use of available space)
Use of walls, raised beds, containers
Use of beneficials (flowers, herbs, companion planting)
Design considerations
Organic aspects (conversion of waste, etc)
Crop rotation, and planningAssessments will be undertaken by members of the Canterbury Horticultural Society.
[/one_half]
[one_half_last]
Conditions of Entry
Entry is free and open to individuals, groups, organisations, and schools within the Spreydon-Cashmere Community Board area only.
All entrants allow the organisers to publish their name and photograph in print and electronic media, including flyers and promotional material.
Entrants grant the panel permission to enter their property for assessment at a mutually convenient time. Gardeners are encouraged to be present to talk with the panel.
Garden visits by the assessment panel take place in March 2018.  Nominees will be advised of the date.
The panel's decision is final and no correspondence will be entered into.
Entrants are invited to attend an award ceremony to be held in April 2018.[/one_half_last]