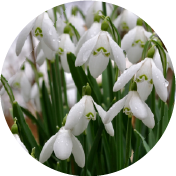 Snowdrops – on a wet and cold day when Winter has us firmly in her grip, how a patch of snowdrops can gladden the heart.
They begin their flowering when little else does and therefore make themselves an invaluable addition to our gardens.
Plant these lovely corms this month to ensure you are see the lovely flowers appear in July/August. Planted under deciduous trees they should bulk up quickly if fed a little and kept mulched for even moisture.
Purchase at any Oderings store or online at www.oderings.co.nz