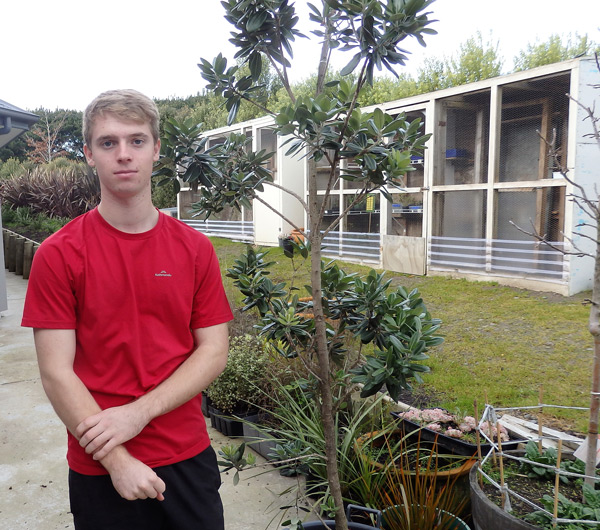 Where were you born and where did you spend most of your childhood?
I was born in Christchurch and spent most of my childhood in Heathcote Valley and then in Cracroft.
Where do you live now?
I am currently living in Cracroft with my parents and brother. I am attending Cashmere High School as a year 12 student (6th form).
What aroused your interest in gardening or horticulture?
I suppose that my interest in horticulture was aroused by my interest in birds. I started by planting plants such as NZ flax for bird feed. But then I realised that there was so much more to gardening than just for feeding birds. And slowly my interest in horticulture overtook my interest in birds. Recently I have spent time with the Botanic Gardens staff – 2 days work experience. I thoroughly enjoyed this. Also recently I have spent 2 days work experience with Landcare Research. Very very interesting.
What gardening or horticultural interests do you have now?
I am mainly interested in native plants, but also in vegetables. I propagate a small number of plants in an old bird aviary and I'm replanting a corner of my parent's property in natives (see photo). I also have a vegetable patch, where I grow lots of silver beet for my finches. The green crop did not germinate this year, but I have an idea that it has something to do with hungry mice!
What's your favourite plant and why?
My favourite plant (at the moment) is Plagianthus regius or ribbonwood. This selection is also echoed by my finches, who find the plant as a very good perch. I have found ribbonwood to grow well where many other plants do not. And it also has an interesting divaricating look while it is young.
What's been your most challenging and/or rewarding gardening project?
My most challenging gardening project is still happening! I am restoring a CCC reserve next to my parent's property that was burnt in the recent Port Hills fire (although flu and cold rainy weather is holding me back). I have, after long chains of emails, got just over 300 native plants. I am currently in the process of site preparation, which includes cutting down burnt vegetation, dead gorse and broom. The grass is growing long again, so there is still lots to do…   
When did you join the CHS and why?
I joined the CHS in 2016, as I wanted to learn more about horticulture and meet like-minded people. The CHS ran two short horticulture courses last year, which I attended. They taught me more about horticulture than a whole year of horticulture/agriculture class taught me at school. The CHS has allowed me to meet other people with the same interests, which I am thankful for.
What is your passion for the future of the CHS?
I would like to see more young people join in, as it is a great society.