Where were you born and where did you spend most of your childhood?
I was born, raised and educated in Christchurch. On leaving high school I entered the travel industry and was fortunate to guide for a variety of interest groups and travel extensively throughout the world. Later I had the privilege of being manger of PGG Travel, Focus Travel, AA Travel Hereford Street and eventually my own travel broking business.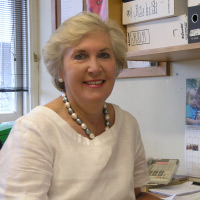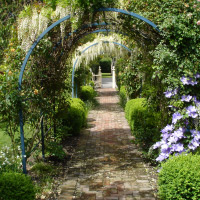 Where do you live now?
I currently live in Tai Tapu; in the Selwyn District on a one acre property which was once the original site of the old Tai Tapu Butter Company.
What aroused your interest in gardening or horticulture?
At the young age of 13 and living on a large suburban section I enjoyed looking after the flower garden, keeping it neat, weeded and watered and generally helping my dad in all aspects of gardening. My aunt also had an influence on my gardening interests. She was a keen gardener and won many awards for her garden in Memorial Avenue.
What gardening or horticultural interests do you have now?
I am currently the President of the Springston Evening Garden Club for a fourth term, having acted in the secretary and treasurer roles as well. As the tour manager of the CHS, having taken over the role from Freda Hunter in 2013, I enjoy the challenge of creating a horticulture interest/garden tour with a WOW factor for all to enjoy, whether locally, nationally or internationally.
What's your favourite plant and why?
In my own garden I have a number of favourite plants, rhodos, hydrangeas and perennials but roses are my favourite as they never disappoint for display and resilience. In my previous home I had over 300 roses but pruning was always a mission. During my time at the CHS I have learned much from the experience and knowledge of some of our older members, especially regarding the choice of planting, growing and general care of my plants.
What's been your most challenging and/or rewarding gardening project?
The post-earthquake task of redeveloping a new garden from a building site, which is only in its first year and incorporating it into the existing garden areas was huge. I am hopeful the new garden, combined with the pre-existing one will be much easier to maintain.
When did you join the CHS and why?
I joined the CHS in 2008 after my mother died. I started by assisting Freda with the CHS Ellerslie tour programmes on a voluntary basis although I had an earlier affiliation with the CHS through my involvement with the Springston Evening Garden Club.
What is your passion for the future of the CHS?
Supporting any initiatives for the younger generation such as garden competitions for schools. Continuing to develop a varied, interesting tour programme for learning, fellowship and fun for lasting memorable experiences and meeting fellow passionate gardeners and plant lovers to share knowledge and enjoy.