David Purcell is our April Member of the Month
Where were you born and where did you spend most of your childhood?
I was born in Christchurch and spent my childhood growing up in the seaside suburb of Sumner. The family moved to Beckenham in 1974, the year I started my working life.
Where do you live now and with whom?
I have lived in the Hornby area since 1982 with my wife Robyn and have been in our present house for the last 27 years.
What aroused your interest in gardening or horticulture?
I inherited an interest in gardening from my parents as we always had a large vegetable and flower garden when I was growing up. I also had two uncles who were keen gardeners, one with a very large vege garden and the other uncle, among other things showed Gladioli.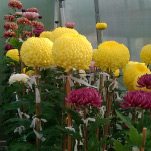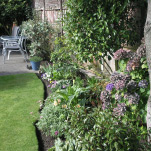 What gardening or horticultural interests do you have now?
I enjoy gardening and like to keep the garden and lawns tidy. For the last 36 years I have been a nurseryman at Landcare Research at Lincoln where I have grown some very rare and interesting plants for various research projects. As well as being a member of the CHS I am also the current President of the Riccarton Horticultural Society and Chairman of the CHS Chrysanthemum Circle.
What's your favourite plant and why?
I like lots of colour in the garden so grow many different plants, but my passion would be the Chrysanthemum flowers. I've grown these for around 40 years and have been showing them for the last 20 years. Chrysanthemums are a great flower for the vase as they last such a long time. There are a wide variety of different types from very small to large flowers. Also it is great seeing the pleasure other people get when they see them on the show bench.
What's been your most challenging and/or rewarding gardening project ?
Several years ago I helped a friend who sold off half her section then we created a new garden which included paved areas. We swapped her double garage for a neighbour's single one and moved a pergola to a new area in the garden. It was very rewarding to finish the hard work and see her vision become a reality.
When did you join the CHS and why?
Not sure, joined many years ago to learn more about the growing of Chrysanthemums and since have gained a lot of horticultural knowledge from various speakers and events.
What is your passion for the future of the CHS?
I think the Society is heading in the right direction, but a big challenge is attracting younger members, not sure of the answer to this. Continue working with like-minded groups to improve the Garden City image.