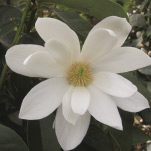 Magnificent fragrant pure white flowers open from brown velvet buds in Winter. Left untrimmed fairy white can eventually grow to 4m, retaining a lovely bushy shape. Great addition for the garden backdrop or as an evergreen hedge which looks lovely trimmed to frame a driveway. You can also let it grow naturally and show it off as a beautiful specimen tree.
Don't forget about Odering's annual sale which runs from now until the 10th of April. All plants are 25-50% off.
Stage one of the Oderings on Cashmere road is now open with the café due to open in September. Come and have a look.