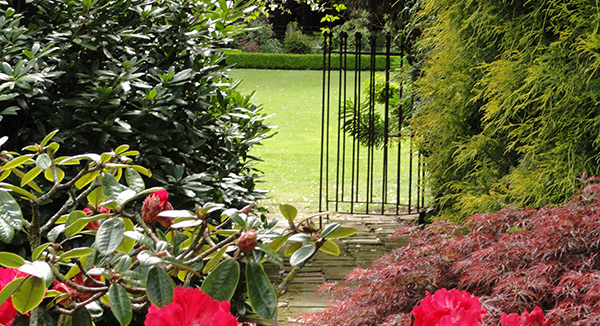 Owner: Marg and Bob Verrall
Address: 1023 Methven Highway
Winchmore, RD 6, Ashburton 7776
Mail: R D 6 Ashburton
Phone: 03 302 4717 | Fax: 03 302 4756  | Cellphone: 025 223 5824
Email: r.m.verrall@ruralnet.co.nz
---
Description
A large 1.8 ha country garden set among 5 ha of many mature homestead trees. These original oak, wellingtonia, poplar, sycamore, cherry and willow trees were planted after the land was settled in 1853. Originally planted in a very english layout, the gardens have developed where the original homestead once stood and incorporates many of these very old trees. The original box hedging along the winding drive has been extended enhancing the many plantings over the past 30 years of rhododendrons, modern roses, maples and perennials. Large manicured lawns made this a very peaceful setting where one can wander among the gardens and trees and ponder their beauty.
Snacks and meals available by prior arrangement.
Includes a pond area under an original willow tree. One of the 150 ft wellingtonia stands proud at the corner of the tennis court area.
The gardens and surrounding area make an ideal picnic venue.
---
Other Information
Historical photos show the original homestead had huge gardens with its own gardeners, tending vege plots, flower gardens, driveways and an extensive orchard. The old trees have been retained, including some of the fruit and walnut trees, and show they have lasted the test of time, in what must have been a testing environment.
Open: Mid October to March by appointment only
Admission: $8 per person with reduced rates for children
Directions: Situated on Highway 77, approximately 13 km west of Ashburton and 20 km east of Methven. When travelling from Ashburton to Methven, Winchmore Gardens is on the left about 1 km past the Winchmore Hall.
Parking: Cars and mini buses – enter drive and follow sign to park in area by tennis court. Buses – Park at gate, passengers to alight and wander up driveway to home.