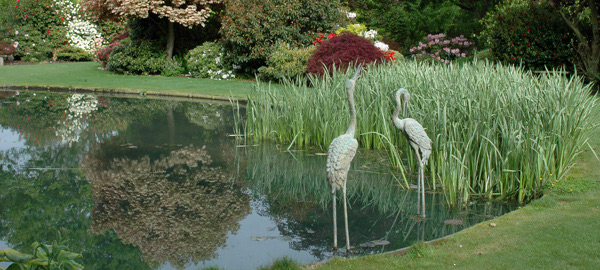 Owner: Alan & Catherine Trott
Address: 371 Racecourse Road, Mid Canterbury, 8300
Phone: (03) 308 9530 | Fax: (03) 308-9530 | Cellphone: 027 234 1516
Email: alan@trotts.co.nz  |  www.trotts.co.nz
Contact: Alan Trott
---
Description
The garden covers an area of 7 acres with a blend of woodland and formality. It features a collection of many choice trees, camellias and rhododendrons. The herbaceous border is a feature in its hedged walls, as well as the formal rose garden.
A pond and stream provides significant beauty for wetland plants and is a real feature.
Garden structures around the garden – provide seating and viewing – The belvedere is the viewing point for the garden.
A chapel is nestled in the garden. This is available for any celebration or function.
The garden has featured on TV in books and magazines, and has been enjoyed by many NZ and overseas visitors and is often said to be 'A Garden for all Seasons'.
Garden of Distinction Award winner.
Garden of Excellence Award winner.
Food available by arrangement.
---
Other Information
Open: All year, 6 days. Closed Sundays unless by arrangement. Prefer group bookings by arrangement. Packages can be arranged.
Admission: Adults $8.00. Children no charge.
Directions: 3.5km from SH1 c/nr Racecourse and Main Rd.
Parking: In carpark or grassed area.